Services & Products
Life Coaching Sessions
For Radiant Health, Beauty and Wellness
How it works:
*  Investment per hour:  $300.
*  Savings on packages below.
*  3 month commitment creates tangible life changing results.
*  24 hour cancellation policy respectfully honors the value of time.
*  Sessions conducted conveniently by phone or in person.
*  20 minute complimentary session determine synergies.
*  Individualized self care and balanced action plan.
* Joywork between sessions creates and grows perspective shifts.
* Email support to uplift, inspire, provoke and provide movement.
All major credit cards accepted through PayPal

Contact us
---
Click the Drop-down Menu Below for Options
Gift Certificate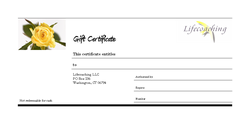 Give a gift certificate in any amount.  We will send via email to the lucky person!
---
Book-For the Moment…Just Be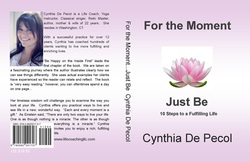 Interactive book on how to change your perspective on life for the better for true happiness. Uses real examples of clients who have changed their paradigm working with Cynthia.  Thoughtful reading with simple wisdom.
$24.95 plus shipping
Allow 2-4 weeks for delivery
---
CD-Meditation in Motion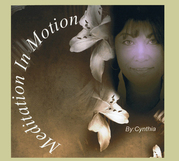 A 24 minute CD to listen to in your car or at home.  Cynthia's soothing voice will calm your being and allow you to experience a different perspective on your day.
$19.95 plus shipping
Allow 2-4 weeks for delivery